Quartet 85283 Platinum Magnetic Total Erase® 3x2 Whiteboard - Aluminum In the Wild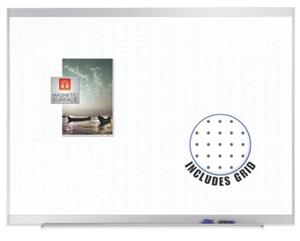 The new Quartet 85283 move up to the platinum standard. This high-quality whiteboard delivers exceptional performance that can help you communicate more effectively. The Total Erase® surface makes writing smoother and clean up faster while resisting staining and ghosting over time. The steel-backed, magnetic surface can also be utilized as a bulletin board. The stylish aluminum finish frame fits into any office decor.
Quick Overview
* 85283 Platinum Magnetic Total Erase® 3x2 Whiteboard - Aluminum
* MINIMUM QUANTITY PURCHASE OF 2 REQUIRED
* 3` W x 2` H Aluminum finish frame
* Steel-backed magnetic surface doubles as bulletin board
* Removable frame caps and pass-thru mounting system secures board to wall in 4 places
* Attached marker tray and 1 Quartet® dry-erase marker included
Additional Information
Manufactured In China
Manufacturer Quartet
Expected Ship Date 7-10 Days
Weight 1.0000
Warranty 100% Satisfaction Guaranteed
Manuf Part # 85283
Model 85283
Main Board Surface Total Erase
Board Size 3' x 2'
Frame Finish/Color Aluminum
Magnetic Surface Yes
Mounting System Horizontal
Scratch & Dent Resistant Yes
Located in the hustle and bustle of New York City, Mono Machines LLC is an authorized reseller for Quartet 85283 Platinum Magnetic Total Erase® 3x2 Whiteboard - Aluminum. Through our unique contracts we are able to ship directly from the manufacturer warehouse, cutting costs and delivering the LOWEST PRICES around.
We strive to provide the best service at the lowest possible price. We have product specialists available for most products. Please call us with any questions or concerns that you may have. We are staffed with highly knowledgeable employees and look forward to meeting your needs.
Highly trained customer service staff and state of the art technologies have made Mono Machines a preferred vendor for many federal and local government agencies as well as schools, churches and fortune 500 companies. Mono Machines is classified as a disadvantaged minority owned business and holds a GSA contract with the federal government.
The company began as a Sole Proprietorship in 2006 with the vision of providing unmatched customer service while utilizing bleeding-edge web technologies for an unprecedented customer experience. Years of hard work and an unwavering commitment to customer service laid the foundation for what has become a multi-million dollar company. Beyond a meticulous approach to customer satisfaction, Mono Machines LLC has continued to grow and expand into new markets and continues to seek out new opportunities.