Loewenstein Introduces New Seating, Modular Lounge Furniture for HD Expo 2012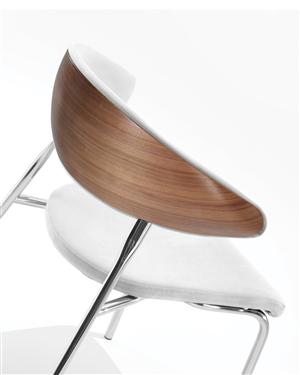 Loewenstein, HD Expo 2012 -- Space 2654
Tangent
ai3, Inc., a renowned architecture, interior and product design studio, and Loewenstein have partnered to create Tangent - a modular lounge that challenges the traditional form of seating. Conceived as a versatile solution for large spaces, Tangent allows for limitless variations and customization. A simple composition of cubes, seats, corners, and backs. Straight lines and simple design permit Tangent to become the signature element within a design or to remain a quiet complement to other accents.
Modello
Italian designed with exceptional attention to detail, the Modello family of chairs consists of an arm and armless side/dining chair along with a counter height and bar height stool to complete the look.The arm chair includes a beautiful chrome arm option and gives the chair a distinct look with the mix of materials. The stitched pattern design spans the back of the chair adding a special detail. Beautiful from every angle, this design will stand out in any surrounding and make a setting instantly feel warm and rich.
Bistro
This chair satisfies not only the highest demands on styling and seating comfort, but also reveals exquisite workmanship with top quality materials. The elegant and organically shaped backrest is worked from 3D Veneer. In spite of its minimum thickness, Bistro is extremely resilient, and together with the upholstered inner surface and shaping of the integrated armrests, provides a special feeling of comfort. Light and easy to handle, Bistro effortlessly completes a wide range of interior architecture and furnishings. Backrest veneer options include oak, walnut and beech with a variety of fabric choices.
About Loewenstein
Since 1966, Loewenstein has manufactured world-class international furniture designs for the North American contract market with proper scale, comfort and engineering. These design collections are offered to the interior design community as multi-purpose furniture at value price points. Backed by progressive and experienced management, along with a highly skilled factory and support team, Loewenstein consistently delivers on its commitment to quality, service and dependability. The company, founded by Hank Loewenstein, is now an OFS Brands company. For more information please visit www.loewensteininc.com , www.facebook.com/LoewensteinInc and on Twitter @LoewensteinInc